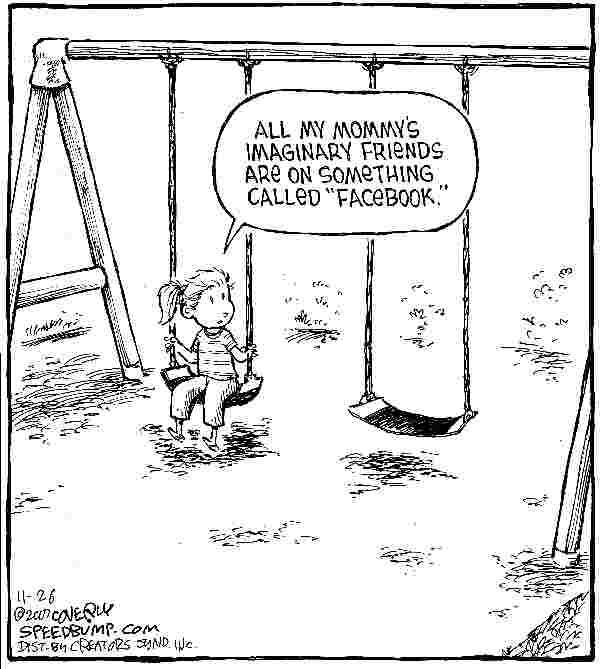 I hate Facebook. Sure, we live in the computer-age (why not call it something cool like the 'Nuclear-age', no we had to go for "computer" ffs...) but where did this obsession come from? Where you have to have so and so many friends to be cool (I have worked out that you apparently need around 300 friends to be 'normal' in Facebook world). But honestly, there are about 20 people, perhaps 25, people of my ad-hoc "FRIEND" list that I would even consider having a pint with - who are all these other people and why do they feel so socially inept that they have to 'add' you to their abstract "FRIEND" list after having spoken to you twice - is that what constitutes friendship these days?
Apparently, my mates tell me, there is a difference between a 'Friend' and a 'Facebook-Friend'. Right. What does that mean? Has talking to people become so stigmatised that you have to 'know' the person prior to said conversation (being someones friend of Facebook constitutes knowing the person apparently). I do not understand; yes we live in a digitalised age but social interaction is a basic human function, hardwired into our brains since the dawn of our brains. But with Facebook (I am now struggling for the fifth time not to delete it, having deleted the account four times prior to this current rant) people appear to be sucked into this whole culture whereby your kudos is judged by the amount of "friends" you have. As an example if you have 1,500 "friends" on Facebook you are the meanest cat on the block, no really, if you touched water it would turn into wine - that is how much bang your presence evokes in the physical surroundings. That was sarcasm, but in reality people actually think there is something wrong with you (no really) if you do not have the golden number of circa 300 friends. I shit you not. Again, this was relayed to me when a friend asked why I did not have "more" friends on Facebook, to which I replied, with a blank stare, with a burst of laughter.
This was a rant, certainly, but it is important. Some people think the world does revolve around Facebook. Personally, I have told so many people to Foxtrot Oscar on Facebook that my number of "friends" is actually declining daily which is hilarious (there is such a function as 'defriending' someone which is quite harsh if you give a shit). If you do not get the point, it was that people are actively getting rid of me as their "friend" for whatever reason, I can think of plenty, but who cares. Point being that I cannot fathom where this whole online dependency culture came from - suddenly it was just there: social networking, join in, it is all a good laugh. Finally to really hit home why my declining number of "friends" is funny: I have never added anyone (you add friends in Facebook you see, you do not talk to them per se, not necessarily. You might have done in real life but that does not matter on Facebook) yet I am so unbearable online that I am being defriended. To honour that age old adage all I can say is this, 'lol'. Hence, if you do not have a Facebook yet, do not get it, go out and have a pint with your mates instead; trust me it is a thousand times more beneficial than jumping on this latest craze. Facebook appeals to a kind of vanity and self-importance in us. If I put up a flattering picture of myself with a list of my favourite things, I can construct an artificial representation of who I am in order to get approval. But that is not who I am, and you will never find out who I am unless you talk to me in real life.
Some argue that Facebook empowers people, it makes them democratically represented by the shear power of numbers. Newspapers love doing stories on "Facebook campaigns" where a bunch of people are protesting against something and have managed to get 10,000 to sign onto it. The MSM hold this up and place it on a pedestal, where it represents empowered people who are taking a stand against a wrong as perceived by them. What they do not seem to realise is that of those 10,000 there is perhaps 20-30 people who actually give a shit. People sign onto so many groups, literally hundreds, simply because other people do it. The one negative aspect of real life is 'peer pressure' yet this, of all things, managed to follow us into cyberspace, whereas love, comfort or companionship are left outside in the harsh nature that is physical reality. This is just an epic failure for everyone involved I am afraid. People tick boxes because everyone else is doing it, they sign pages, they leave comments but if these were actual campaigns, where their signatures would actually mean something they would back down in hordes, and would never again be so generous with their name. That is the ugly side of democracy, once you sign on for it you actually have to take part; it is not a spectator sport and there are no judges, there is just you and everyone else.
But what is more this is Facebook's Privacy Policy:
Facebook's privacy policy

Just for fun, try substituting the words 'Big Brother' whenever you read the word 'Facebook'

1. We will advertise at you
"When you use Facebook, you may set up your personal profile, form relationships, send messages, perform searches and queries, form groups, set up events, add applications, and transmit information through various channels. We collect this information so that we can provide you the service and offer personalised features."
2. You can't delete anything
"When you update information, we usually keep a backup copy of the prior version for a reasonable period of time to enable reversion to the prior version of that information."
3. Anyone can glance at your intimate confessions
"... we cannot and do not guarantee that user content you post on the site will not be viewed by unauthorised persons. We are not responsible for circumvention of any privacy settings or security measures contained on the site. You understand and acknowledge that, even after removal, copies of user content may remain viewable in cached and archived pages or if other users have copied or stored your user content."
4. Our marketing profile of you will be unbeatable
"Facebook may also collect information about you from other sources, such as newspapers, blogs, instant messaging services, and other users of the Facebook service through the operation of the service (eg, photo tags) in order to provide you with more useful information and a more personalised experience."
5. Opting out doesn't mean opting out
"Facebook reserves the right to send you notices about your account even if you opt out of all voluntary email notifications."
6. The CIA may look at the stuff when they feel like it
"By using Facebook, you are consenting to have your personal data transferred to and processed in the United States ... We may be required to disclose user information pursuant to lawful requests, such as subpoenas or court orders, or in compliance with applicable laws. We do not reveal information until we have a good faith belief that an information request by law enforcement or private litigants meets applicable legal standards. Additionally, we may share account or other information when we believe it is necessary to comply with law, to protect our interests or property, to prevent fraud or other illegal activity perpetrated through the Facebook service or using the Facebook name, or to prevent imminent bodily harm. This may include sharing information with other companies, lawyers, agents or government agencies."
Naturally, if social scientific study is of no interest to you then please ignore what you have just read above and go on and get a
Facebook
account.